2010 Vancouver Winter Olympics
The 21st Olympic Winter Games begin with the Opening Ceremony from Vancouver, Canada. Coverage begins at 7:30 PM locally on NBC/WKYC Channel 3. The opening ceremonies will be special. For the first time, they will be held indoors.
After seven years of planning, the lights will dim inside Vancouver's BC Place as 55,000 attendees watch the parade of athletes and opening ceremonies.
Who better to ask who to watch in the Vancouver Olympics than Olympic champion skater Carol Heiss Jenkins. She won the Silver Medal in 1956 and between 1957 and 1960, Carol Heiss dominated women's figure skating like nobody since Sonja Henie. She was U.S. and World Champion every year, and at the 1960 Winter Olympics Heiss captured the gold medal, being ranked first by all nine judges.
We also caught up with Carol Heiss Jenkins' student, Tonia Kwiatkowski. Tonia Kwiatkowski is the 1996 United States silver medalist and a three-time World team member, twice finishing in the top ten at the World Championships.
See more of these skating legends at the Greater Cleveland Sports Awards.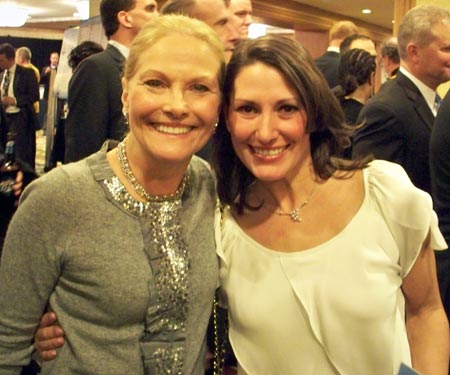 Carol Heiss Jenkins and Tonia Kwiatkowski
---
Top of Page
Back to Sports for Cleveland Women
Back to Out & About for Cleveland Women