Debbie Hanson throws first pitch
at Cleveland Indians game
I was honored to be a member of the Cleveland Indians team who helped bring their first International Festival to Progressive Field. Together we secured international performers (Irish Dancers, Japanese drummers, Brazilian performers, Polynesian performers, and more), food sensations (Polish, German, Mexican, Chinese) and fun times for all attendees.
Then the experience got even better when I got the email asking if I wanted to throw out the first pitch. Do I want to? Are you kidding me? Of course I want to.
I knew (and acknowledged) I am not what you would call athletic and could not recall throwing an overhand ball. In my life. Ever. But this was not about trying out for the team - this was about throwing the first pitch!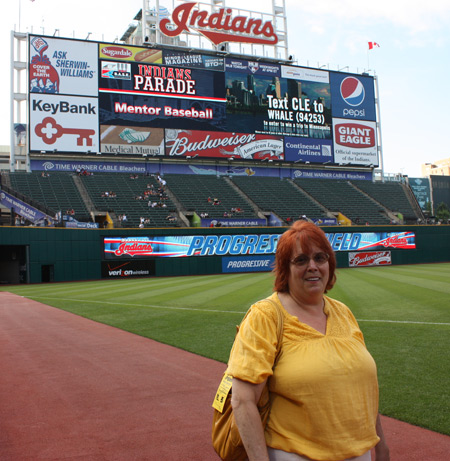 I practiced in the back yard with my brother, Dan, who finally decided that the best I could hope for was "You probably won't embarrass yourself."
Facebook, twitter, email - every social media contact in the world knew about the upcoming event. On the same day I taped a television show for ClevelandSeniors.Com and told their sportscaster (and anyone else that would listen) about my experience for later that night. He announced it on the air throughout the day.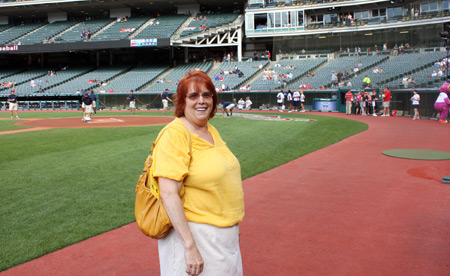 We went to Progressive Field and walked around looking at the International exhibits until finally the big moment came.
We were escorted to a part of the field, like the dugout. We walked through tunnels I never knew existed to get there. All the while Dan was shooting picture after picture to immortalize the greatest moment in Progressive Field history. (I suppose some would disagree.)
When I was escorted to the mound (that's the pitcher's mound at Progressive Field!) my name was announced on the loud speaker and my picture was on the big screen. (The same loudspeaker and screen they use for real, professional Cleveland Indians!)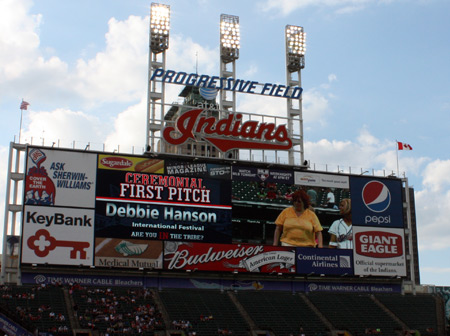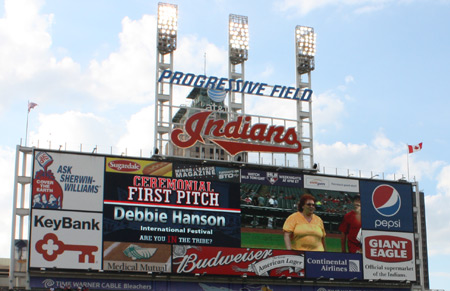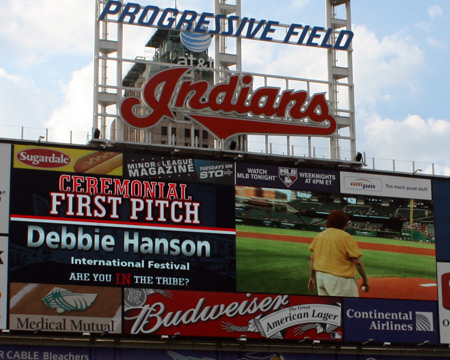 I saw the catcher (who was really pitcher Frank Hermann) motion for me to move in a little. A little more. Just a little more.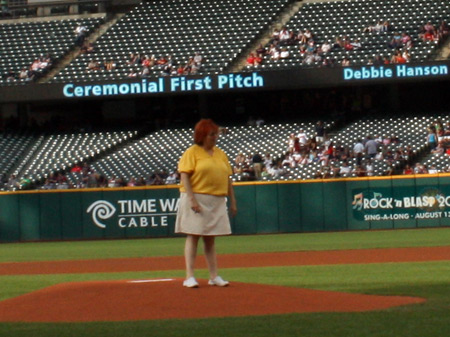 I made each move, but even if the ball bounced in front of me I was determined to stay on the mound - and I did.
I wish I could say I 'threw like a girl" but frankly, that would be something to aspire to.
Slider and Frank Hermann came out to the mound with the ball and Hermann signed it for me. There isn't enough money in the world for me to sell that ball. It is absolutely priceless.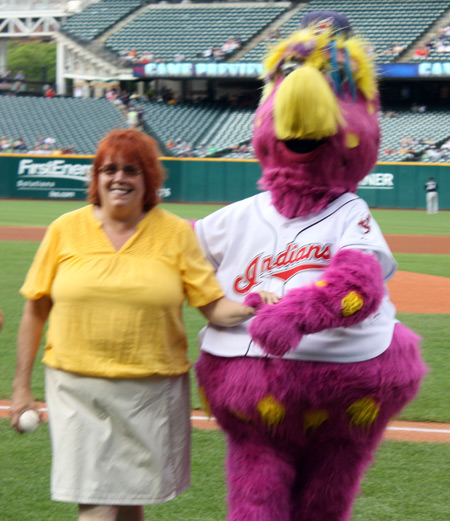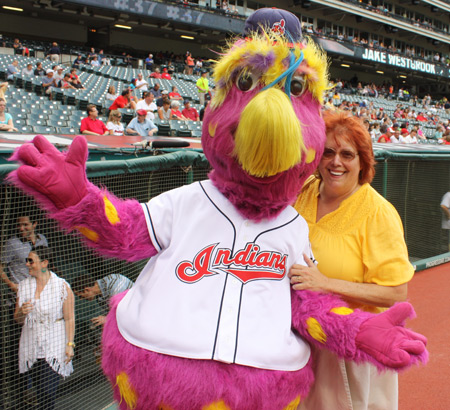 Every moment of the experience was great and I am so grateful for the opportunity.
The Tribe won that day; I think they are crediting Jake Westbrook with the win. Whatever.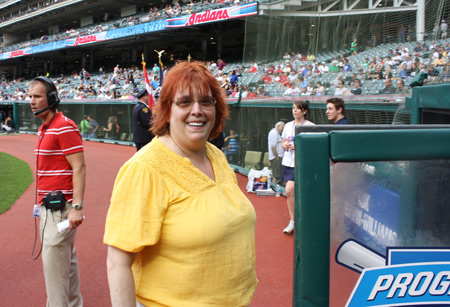 The International Festival was an amazing success and people are already looking forward to next year. And did I mention, I threw out the first pitch?
It just doesn't get any better than this.
---

---

Back to Top

Back to Cleveland Women Personalities

Back to Cleveland Women Sports

Cleveland Indians International Festival