2008 Arnold L. Heller Award Recipient
Belle Likover
Belle Likover is this year's recipient of the Menorah Park Center for Senior Living's Dr. Arnold L. Heller Award.
Belle's boundless energy and determination made her the perfect candidate for this award. She is an 89 year-old social worker who defines retirement differently than most.
Her focus on senior causes since 1960 exemplifies her strong advocacy for the aging population. She has presented testimony on senior's needs to various congressional, county and state commissions.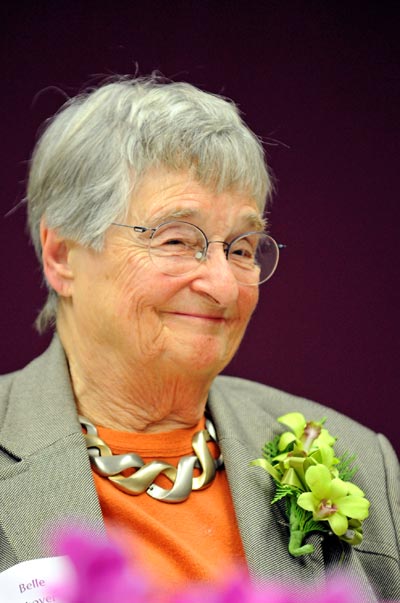 She received the Outstanding Service award from the Western Reserve Area Agencies on Aging in 1995. In 1998, she was inducted into the Ohio Senior Hall of Fame. Belle was named a Distinguished Alumnus by CWRU's school of social work in 2000, and she was named one of the Cleveland Plain Dealer's Ohioans of the Year in 2002.
John Begala, the executive director of the Center for Community Solutions said, "Belle communicates complicated policy and fiscal matters in easily understood terms. She knows how to gain the attention of decision-makers and seldom takes no for an answer," he said. Her advocacy efforts on behalf of the senior community are outstanding.
The Heller Award was created to honor Dr. Arnold Heller, who served as the Medical Director of Menorah Park for 18 years prior to his death at the age of 62.
"Arnie" Heller was known for his compassion, competence and gentle manner. Soon after his death, the Dr. Arnold L. Heller Memorial Award was established in his honor to recognize men, women and organizations in Northeast Ohio devoted to the field of gerontology.
---

---
Back to Top
Back to Cleveland Women Personalities