Jackie Kallen
The First Lady of Boxing
Attendees at the Heart Association's 2010 Go Red Cleveland luncheon had the privilege of hearing key note speaker Jackie Kallen.
She describes herself as "one of those kids growing up that didn't find myself early. I wasn't very good at anything. I was one of those kids that couldn't sing. Couldn't dance. Couldn't act. Had no talent. Literally not very talented in anything. Tried sports, that was a disaster as well. Couldn't hit a tennis ball. Couldn't bowl. I just really didn't have what appeared to be a talent."
Her life turned around when she was nine years old and was diagnosed with polio. She learned the biggest lesson of her life: "Look at the big picture".
She was in a ward with a girl who was severely burned and was up all night screaming. The other girl in her ward had leukemia. "And here I was with what turned out to be... a viral infection in my lungs. I got to go home and live a very happy life."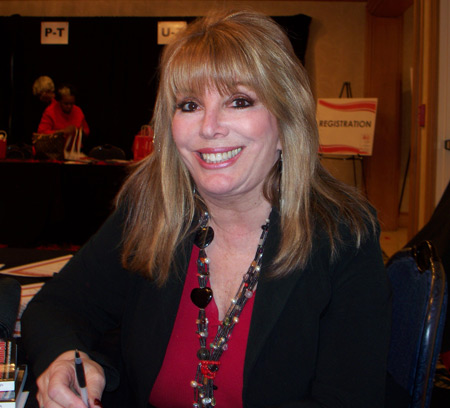 Her mother reminded her how lucky she was and told her to always appreciate what she has, not to complain about what she didn't have. She went home and wrote a story about her stay in the hospital and sent it into Jack and Jill magazine, a popular children's magazine. It was published and she won an award. At that very moment she knew what would set her apart from everyone else - she was a writer!
Jackie decided to become a journalist. Her entry into the Press World had an interesting beginning. Her parents were going through a divorce, which in the 60's was not a common occurrence.
"I lived for Ozzie and Harriet". There was a contest to win a date with Ricky Nelson. She has already "written that guy so many letters, unanswered" so she knew if she was ever going to meet him she would have to win the contest. So she entered, and won.
She laughs as she remembers "the date" "It wasn't really much of a date. I wasn't quite 13 - he was about 16... He was not really thrilled. My bag was packed in the car thinking he was going to take me back to California, but it never got opened." She did get to ride in the car with him at a state fair parade and go backstage at a concert and "I got to go to dinner with him and be ignored afterwards."
Something positive came out of this event however. During the dinner she asked him every question she could think of and he answered most of them. By the end of the night they were "kinda friends". When he was leaving he told her she had a lot of heart, she was spunky and had asked more questions than most of the adult journalist that interviewed him. He told her she ought to be a journalist and "I thought - why not?" And she became a journalist.
She went to High School and wrote for her school paper. She interviewed The Beatles, The Rolling Stones and every entertainer that came through Detroit. She even had the Rolling Stones to her house for dinner. How did that happen? "I asked them". She simply asked Mick Jagger if 'the guys" had anything to do between shows and they wound up at her house for dinner.
This represents her second lesson in life. Number 1 was to see the big picture and not sweat the small stuff. Number 2 is to ask for what you want.
Journalism became her life. She wrote for a daily paper for twenty five years, mostly sports and entertainment. Women at the time were not reporting on sports and she was told "no" over and over, but she refused to listen. Jackie grew up surrounded by men. When she got married she had two sons and eventually two grandsons. "Even our dogs were male. So I didn't have a problem going in a locker room."
Finally, she was told that there was a new baseball player coming in for the Tigers, Mark Fidrych, "The Bird". The paper was having a hard time getting an interview because he didn't talk much and had little to say. She was told she could be a sports writer if she could get a good story with Fidrych.
She did her best to accentuate her feminine attributes and waited outside where the players come out. She introduced herself and got her story. When she went back she was told that she got the story just because she was a woman to which she replied "Do you get it now?"
Her career as a sports writer is how she became involved with boxing. She was assigned to interview Tommy "The Hit Man" Hearns who became a six-time world champion. She fell in love with the sport and went to work for Tommy.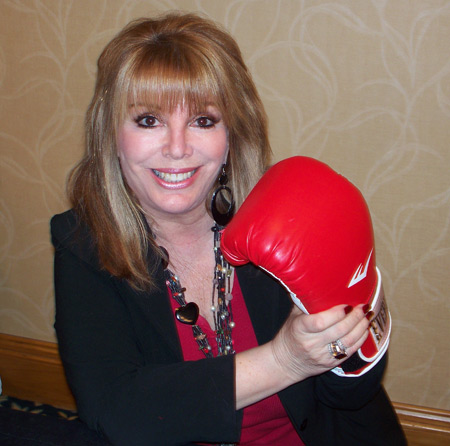 Kallen, also known as "The First Lady of Boxing" became a publicist, manager and promoter. She managed six champions including James "Lights Out" Toney and Bronco McKart. She was nominated twice as Manager of the Year and is the recipient of the very prestigious Aileen Eaton Award for Lifetime Achievement from the World Boxing Hall of Fame and was inducted into the California Boxing Hall of Fame.

Jackie is the inspiration for Paramount's movie "Against the Ropes" starring Meg Ryan.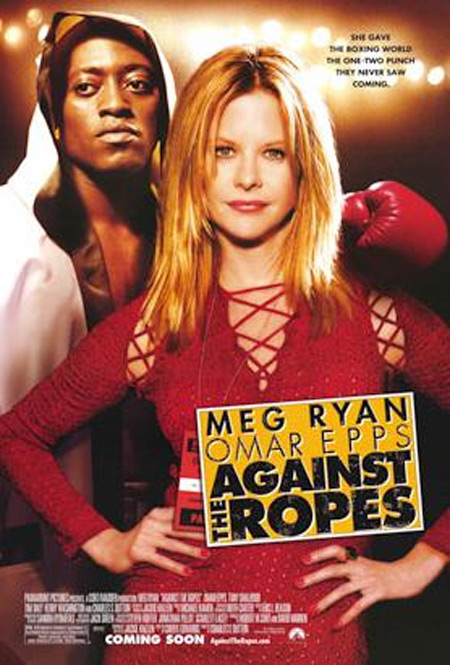 Although Jackie is from Detroit, the producers decided her character should be from Cleveland. Jackie explains, "Cleveland is the city Detroit hopes to be someday ... So I feel like I'm at home."

She was scheduled to come to Cleveland to film a small cameo spot in the movie. She says when they do a movie about your life you get to have a small role. "That's part of the deal".

The night before she was scheduled to come to Cleveland she wound up in the Cardiac Unit where they ultimately put in a heart stent. "It ruined my weekend but it also saved my life."

She is also the author of Hit Me With Your Best Shot: A Fight Plan for Dealing With All of Lifeªs Hard Knocks
and is working on her autobiography, Undefeated. You may remember her as The Den Mother on the NBC show The Contender
with Sugar Ray Leonard and Sylvester Stallone. ("He's really not that short.")
Jackie is very active in charities, especially those involving women. She says women are not trained properly. "We are not told that heart disease kills us 8 times more than any cancer. And while we are running to get our pap smears and our mammograms we are missing the point. We are missing the fact that with this silent deadly killer - heart disease - we can't always get the warning that men get."
In her case, when she started getting tired and winded walking up steps, she just thought she was overdoing it a little, a thought shared by most women.
She had never been a smoker or a drinker, she was active and in good shape. Heart disease didn't run in her family. So it never entered her mind it could be anything but fatigue. When she started sweating profusely she chalked it up to menopause. She experienced pain and pressure in her jaw.
Her internist thought it might be a brain tumor and ordered MRI's, with no result. After six weeks of testing, without so much as a heart monitor, she went to another doctor, a female, who put a 24 heart monitor on her and admitted her the next day. She had 95% blockage in one artery and 75% in the other.
"It was the best news I ever heard, believe it or not. They said we can put a stent in, open up that artery and you're going to be fine. Attitude being everything I thought 'Thank you God'! With all of the things you could have given me... you gave me this. I can handle this..."
One day later she walked out with her stent "Stanley" in place. Yes, she named it because she knew they would be together a long time. They are in their 8th year.
She learned how important it is to be proactive. "Treat your body as well as you treat your car... Know your numbers." "Instead of going with your friend to the hairdresser, go together to the doctor. Drink a lot of water. Take care of yourself and each other."
Jackie says she actually enjoys taking all the tests now "when I get a clear mammogram, I celebrate. My girlfriends and I go out to lunch." Exercise, she says, is more than joining a health club to look good for a man.
"In my case, my husband after 30 years walked out for a younger woman. Which, you know, don't be sad, it was like a Get Out of Jail Free card... When my husband left I was 50, I moved to California by myself...now I am officially a cougar. I decided I need exercise so I found a guy 15 years younger!
Jackie emphasizes the need for a stress-free or at least stress-reduced life. "Stress causes more heart disease than any other factor. Attitude is everything... Try to think what you can do for someone else to make their life better."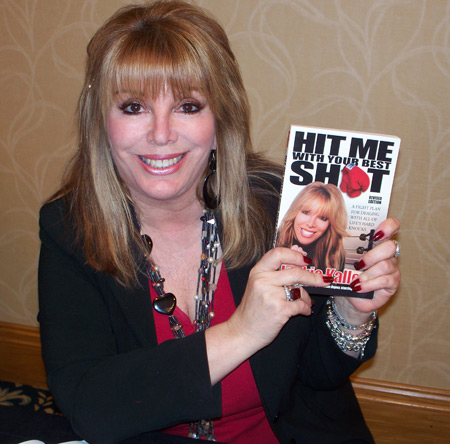 It is almost impossible to listen to Jackie Kallen and not be inspired. This is a woman with a deep insight into herself as well as a keen grasp on what is important. She has taken the lessons she learned and is using them to help other women. She is kind, funny and sincere. Most of all - she is healthy!

From Jackie Kallen website (with permission)

There are no shortcuts to success and no magic words. But most successful people got that way by following certain basic rules. These are ten of my top tips to being successful…
Develop a thick skin. Don't be overly sensitive.
Never let anyone see you sweat. Act like things are cool even when they aren't.
Watch the swearing. Talk like a professional.
Ask questions and admit when you don't know something. People love to show off and tell you how much they know. It's a great way to learn things.
Sit up straight and carry yourself proudly. Bad posture gives off a signal of insecurity. Never slouch.
Eye contact is imperative. Look people straight in the eye and try not to be the first to look away.
Laugh sparingly. When something is funny-laugh. But avoid mindless giggling. It denotes nervousness.
Smile a lot. This is one of your best tools.
Use good grammar and big words. It intimidates people (in a positive way!)
Package yourself well. Always look as good as possible.
A short video message from Jackie Kallen to the women of Cleveland.
---

---
Back to Top
Back to Cleveland Women Personalities
Back to Go Red for Women 2010