2011 Miss Italia Ohio
Christina Selvaggio Stickan
Many young women entered the Miss Italia Ohio pageant hoping to be crowned with this prestigious title. All were beautiful, intelligent young women, but one stood out from the rest. She is Christina (Selvaggio) Stickan, this year's Miss Italia.
In accepting her honor, Christina acknowledged the other entrants by saying "Everyone wins; we are all Italians!"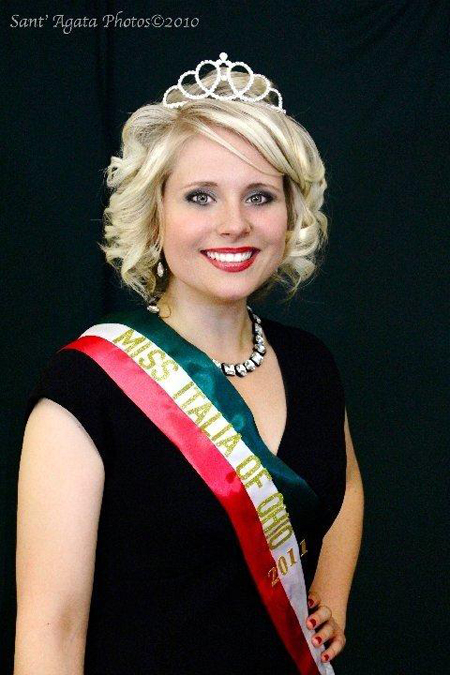 Christina is not new to awards. She received the Presidential, American Values and Alumni Scholarships at John Carroll University, the school where she received her B.A. degree. She is also the recipient of the Dorothy Taft Volunteer of the Year Award. This award is given by the Cuyahoga County Republican Party and is the highest volunteer award they give.

When asked why she wanted to represent Italian-Americans in Cleveland her response was simply "One has only to walk through the Cleveland Italian Cultural Gardens to be reminded of the great contributions Italians have made to our world. It would be my honor to be named Miss Italia of Ohio so that I might proudly serve as an ambassador within my community to represent all things Italian!"

The judges felt the sincerity in her response. That coupled with her engaging personality and brilliant smile made her a natural for the title.

Christina is studying nursing at Cleveland State. Although she studies hard she also has a lot of other interests to keep her busy. She is a wonderful cook (Mom, Lucy Stickan, probably showed her the way to wonderful Italian cooking!)

She can get physical or philosophical - she plays both the flute and volleyball. Her flute playing is the result of four years of studying at the Cleveland Institute of Music.

Christina is a delightful woman with a charming combination of wit and wisdom. She is proud of being Italian and the Italians are proud of her. A conversation with Christina will quickly show you that faith and family are the center of her life.

Ohio and Italy can both be very proud of the selection of Christina Stickan as Miss Italia Ohio! She is a credit to both.
---
Back to Top
Back to Cleveland Women Personalities
Cleveland Italians