Jewelry accessories to personalize your fashion style
Summer is the time a year a lot of us kick back and relax, perhaps take a vacation. We savor the long days and fun in the sun.
It is also a change in season which means a change in wardrobe. In past years, some of us may have purchased several new outfits, shoes and accessories to welcome the new season. This summer, a lot of us are feeling the crunch from the economy, but never fear, finding great deals to spruce up things that are all ready in your wardrobe has never been easier.
As you take stock of your summer wardrobe keep in mind a few things. An accessory can give an older outfit a brand new look.
For example, you can update a classic business suite by layering longer necklaces with a few shorter ones. Dress up a casual outfit with a bold piece of jewelry such as a pair of chandelier earrings. An accessory personalizes your style so don't be afraid to try new looks!
Another money saving tip you may try is utilizing your local thrift store. I've found some amazing "new" outfits at a fraction of the price you would pay at a retail store. I personally love second hand shops. I'm able to buy all name brand clothing and not feel guilty about it. By saving up to 90% off the retail value of these outfits, you are able to splurge on accessories.
Summer at lia sophia
A year and a half ago I became a Jewelry Advisor with lia sophia. For those who are not familiar with lia sophia; they are a national (and soon to be international) in- home jewelry party corporation. Formerly named Lady Remington, lia sophia has reinvented itself to fit the needs of today's women. lia sophia offers high quality, affordable jewelry to all of it's customers.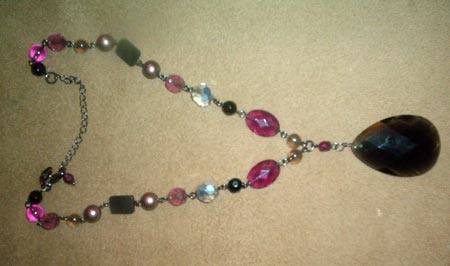 As I mentioned before, there are always ways to buy affordable jewelry with lia sophia. lia sophia customers know that lia sophia is always on sale! For the month of June, all show hostesses who have a $600.00 show will receive an additional $100.00 in jewelry for only $19.00. That is in addition to our existing hostess bonuses. All lia sophia hostesses receive four items out of our catalog for $15.00 each and an additional two items at half price.




You also receive 20%-40% of your shows sales in free jewelry! You may be wondering how the friends who attend your party will be able to save. Any of your friends who purchase three items will be able to use our customer savings plan. All customers who buy two items at full price will receive one item at half price.

At lia sophia, the half price item is always the most expensive. June also offers customers an additional savings. Everyone who uses the customer savings plan is also able to purchase three additional necklaces at half price! The savings add up quickly!

lia sophia is always striving for customer satisfaction. The jewelry comes with a lifetime warranty. If you are not satisfied with your jewelry, simply send it back to the company, along with your receipt, for either a new item or refund. This is one investment that comes with very little risk!


I'd like to extend an offer to everyone reading this on www.ClevelandWomen.com. I will send you a $10.00 gift certificate that is redeemable through me, Natalie Seifried. In return, I'd like for you to send me a question either regarding fashion, lia sophia jewelry, becoming an advisor, or hosting your own lia sophia party.

Please send your question to jewelryhostess@hotmail.com, along with you name, email address and an address that I can send your gift certificate to. I look forward to answering your questions!

Natalie Seifried
Lia sophia Jewelry Advisor
jewelryhostess@hotmail.com


---

---
Top of Page
Back to Cleveland Fashion