Emily Infeld
Cleveland Woman Emily Infeld is now running for Georgetown. She is also studying in the Business School while running track and field for this Division 1 School. It was her amazing performances as part of Beaumont High School's Blue Streaks that brought her to the attention of Georgetown.
Emily and her Beaumont team competed in the State Championships this year, and her team, the defending champions, won their 16th overall title. She defended her personal title in the 1600 meter race with a time of 4:47:31. She was the 15th female to ever win an event four consecutive times at the State Championships. She earned that record in the 800's with a time of 2:09:12.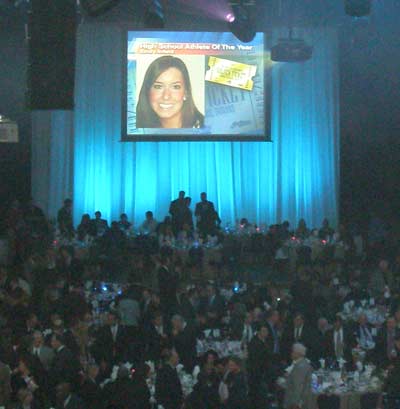 Beaumont Track Star Emily Infield on the big screen at the 2008 Greater Cleveland Sports Awards Ceremony



She was inspired early on by her older sister, Maggie, also a runner. She used to go to road races on summer weekends with her dad "mainly just to get the free t-shirts and food." She went to grade school at Gesu and tried out all the sports there including soccer, t-ball, basketball, even gymnastics and Irish dancing.

She always had a tremendous amount of support from her family, even younger sister Lucy, a junior at Beaumont. "My family came to all of my meets and were always really supportive."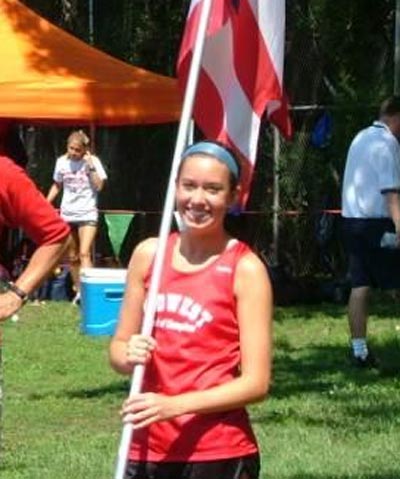 Emily gets nervous before every race, but uses the moments before the start to focus on her running and picture herself crossing the line. Her win with the Beaumont Team was "Super exciting". She credits her "amazing team" and their hard work saying it was just great to "see it all pay off.

The rest of the team included fellow seniors Aareon Payne (100, 4 x 100 and 200, Ashley Rockwood (4 x 800, 800) and Autumn White (4 x 100); juniors Jane Lodwick (4 x 800) and Olivia Zippert (4 x 100) and; freshman Naeyana Love (4 x 100) and Allie Mooney (4 x 800)

The discipline Emily needs as an athlete carries over into other aspects of her life. She finds she doesn't procrastinate as much. Although sometimes she feels she is missing out on the things other high school kids are doing when she has a meet or has to prepare for a meet, but in when it comes right down to it, she is doing something she loves and does not feel deprived.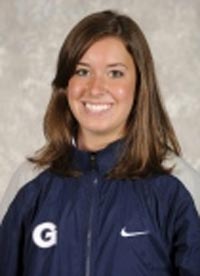 After college, she would like to continue to run competitively or at least continue to run in some way. Coaching is not out of the question; "I just know I want to stay involved with the sport."
Her average summer day consists of about 8 miles of running and some specific work out exercises. She also works from noon to 8:30 every day. The Georgetown Coach, Chris Miltenberg checks in with her daily and sends her routines to work on.
Emily is a focused young woman with the drive and determination needed to excel, as she has.
The London Olympics in 2012? Who knows? But if Emily decides that is what she wants, not much could stop her.
2 minute video of Emily Infeld interview after winning the 2008 Nike Outdoor Nationals Mile race

Visit Flotrack For More Videos
---
Back to Top
Back to Cleveland Women Sports
Back to Cleveland Women - Teens
Back to Cleveland Women - College