Teenage Girls
---
The teen years. Not a kid, not an adult. It can be an awkward time.
This section is for you; written by and about other young women facing some of the same changes and opportunities that you are.
Let us know what you think. E-mail qa@ClevelandWomen.com with your own thoughts and ideas or if you are interested in being a Writer, Photographer, Artist or Reviewer
---
Allie Mooney Marathon
Cleveland Woman Allie Mooney is a sophomore at The Ohio State University. She ran the Columbus Marathon and did quite well with a time of 3 hours and 43 minutes. The average time for the 26.2 mile race was 4:23. Allie placed 548th out of 5513 runners.

The race benefits the National Children's Hospital and is in its 34th year.

Great job Allie!
---
Congratulations and Great Job to Girl Scout Troop 70301, better known as the Queen Bees, from Mary B. Martin STEM School of Cleveland. The Queen Bees competed in the FIRST Lego League (FLL) regional tournament at Hathaway Brown School in December. Their presentation caught the attention of the judges and the team was granted the Judges Award.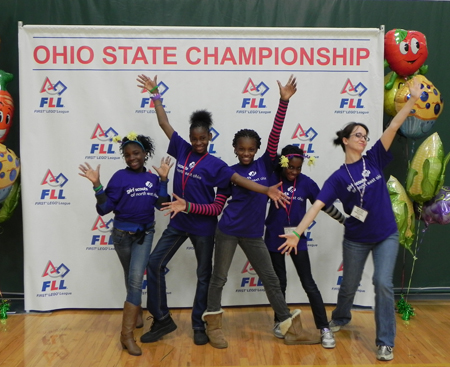 To their surprise, the Queen Bees were invited to advance to the FLL Ohio State Championship, which was held at the Ervin J. Nutter Center on the campus of Wright State University in Dayton! The team was nominated and invited to compete as a Wildcard Advancement Team. These teams overcame some hardship and still were able to compete at a regional tournament. The judges looked for teams that excelled in ways that surprised them, and felt they would benefit from experiencing a championship event.
36 teams from across the state designed and built Lego robots to help solve this year's challenge theme: Food Factor - Keeping Food Safe. The FLL Ohio State Championship tournament was a spectacular array of talent and ingenuity. The event encouraged team work, professionalism, imagination and lots of fun…and the Queen Bees embraced it ALL!
---


Cleveland Collinwood High School student Imane Blaine recited her poem Pressure about student peer pressure at the Project Love Purple America ceremony at Landerhaven on November 30, 2011.


---
Shaker Teens perform at The Maze
Music, Poetry and Dramatic Monologs



Shaker Heights High School student Cara Lee does a dramatic monolog interpretation of 'Explosions in the Corner' at 'The Maze'
---
Shaker Heights High School student Abby Bryan sings the Only Exception at 'The Maze'
---
Benefit for Japan at Asia Plaza

Two young high school students, Cameron Beason and Jane Tang saw the stories on the news and knew they had to do something for all the people suffering as a result of Japan's tsunami. Beason says they didn't want to just give money; they wanted to encourage other people to donate as well. So they organized an event.


Cameron Beason and Jane Tang
---
How Teenage Girls Portray Themselves Online and in Person
Nationwide Girl Scout Survey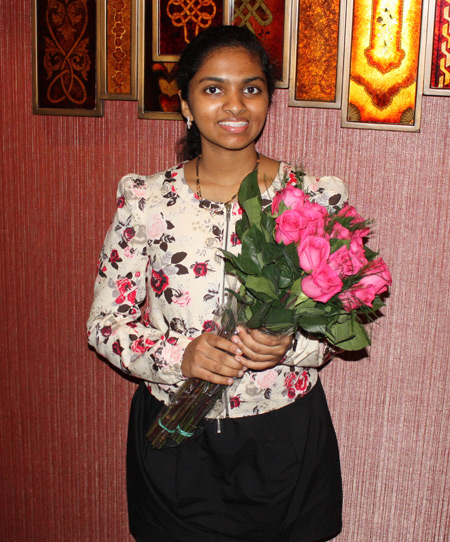 2010 Spelling Bee Champion Anamika Veeramani
More from this 14 years old wiz

Award winning athletes Jessica Beard and Tess Sito
Inspiration and advice for their fellow Cleveland teens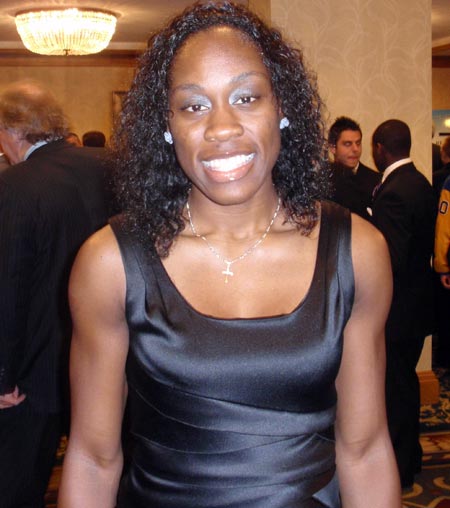 Jessica Beard from Euclid High School (now at Texas A&M)
---
Figure skater Noelle Bruno turns actress
A special message for Cleveland women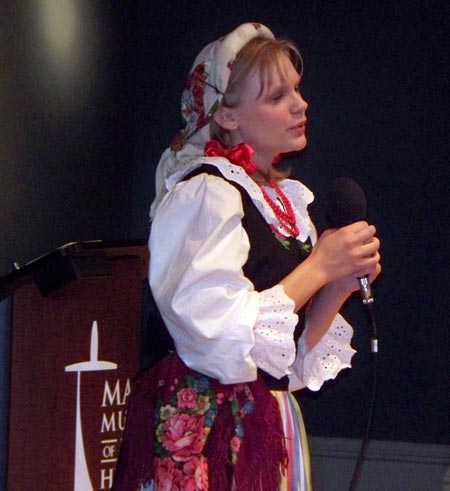 Cleveland Teen Asia Sycala of PIAST
Short videos of Asia (above) Singing and Dancing

Love Compatibility Test
Of course it's not scientific, but it's fun!

In My Backpack
New 9th grader Sheila Grace does some Summer Cleaning

2009 Prom Dress Fashion Trends
Look for punch colors, metallic fabrics, and dazzling beadwork

Arianna Körting is 14 and already played Carnegie Hall
She is bringing out the best in music

Emily Infeld - State Champion still running
Beaumont HS to Georgetown to... London in 2012?


---
Congratulations to the 150 girls from 13 schools who comprise the ClevelandWomen.Com High School Girls Future Leaders Class of 2008
See Speakers, Photos, Videos, Summaries and Opportunities from the annual event for promising high school girls.


---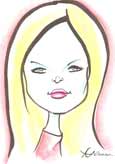 Hi, I'm Rachael. I am a fellow teenager and know how nice it is to be able to ask someone a question or just talk to someone.

If you have a question that you want to ask, I promise to keep it anonymous and to do my best to give you a good answer. I will call on my friends, family, teachers and others to try and help you out.

Have a question or problem?
---
Congratulations to Beaumont Track Star Emily Infield for being a finalist in the Greater Cleveland Sports Awards held January 24, 2008. And congratulations also to Lakewood High School's (then Wake Forest) Michelle Sikes for winning the Collegiate Athlete of the Year Award. See more from the Awards and read more and listen to an interview with Michelle where she gives advice to high school girls.


---
Photographer Monika Cepulis
Beaumont class of 2010

Wynonna's Classic Christmas Concert
Reviewed by Beaumont student Theresa Ianni

International Youth Soccer in Cleveland
Boys and Girls competing

Who says girls can't play chess?
16 year old Rebecca Lelko beat the men

Harry Potter Fest in Hudson
Pictures from our Teen Correspondent

ClevelandWomen.Com High School Girls Leadership Class of 2007
Photos, Summaries and Opportunities

The new Harry Potter book is coming
and Ashley can't wait!

5 Ways to Cut Spending
and Still Get to Do and Buy Cool Things

Funny Sentence Game
Send yours to your Friends and see theirs!

There is no safe sun tan
Learn about your skin

5 Top Trends in 2007 Prom Dresses
The most fashionable styles and colors

Senior & Junior Prom
New thoughts from 1,000 Teens

Music is the best hobby
By 13 year-old Allie (soon to be 14)

Bone strength for Life
What to eat, what to do

Where are you headed?
Start thinking about your future goals

Staying cool even when you're hot (mad)
Dealing with Anger

Be careful in Chat Rooms
Funny, but gross, picture

Boost your Self-Esteem
Try these Tips

What Smart Girls Should Know About Knee-Sense
How to Prevent and Treat Non-Contact Sports ACL Ligament Injuries in Young Women

I love animals
How do I become a vet?


---
During the month of March, Wiley Middle School in University Heights celebrated Women's History Month. The program was sponsored by Reaching Heights, an organization in the Cleveland Heights area.

Katie Anderson, Teacher at Wiley Middle School, submitted the 3 winning entries.
1st Prize Winner: Helena Soreo
2nd Prize Winner: Julia Gay
3rd Prize Winner: Brittany Peterson
Congratulations Ladies!

Florence Volzer
By Helena Soreo

My Mom
By Julia Gay

A Woman's Worth
By Brittany Peterson


---
Tara MichelleMeet Tara
Girls, Teenagers & Young Women, here is my story.

Society in Cages?
Tara Michelle asks questions

The Story of a Girl
A Poem by Tara Michelle

No Longer am I Free
A Poem by Tara Michelle

Inside this Classroom
A Poem by Tara Michelle

Strength & Voice
A Poem by Tara Michelle

Bliss
A Poem by Tara Michelle

Nature vs Nurture
by Tara Michelle



---
---

---
Top of Page


Back to Times of Your Life